Please save this date – Tuesday 3rd March – and book today. Every school should have a member of staff attend.
Event:               Manchester School Sport Inspire Day
Date:                  3rd March 2020, 1-4pm (plus tour)
Venue:               University Academy '92
Cost:                   Included as part of your MPEA Membership
Audience: PE Subject leaders are encouraged to bring colleagues that have a keen interest and an influence in PE, School Sport & Physical Activity, such as, Governors, Headteachers, Senior Leaders, Coaches, Healthy Schools Lead. Book: https://www.manchesterschoolspe.co.uk/events/manchester-school-games-values-training-day/
We are very privileged to be hosting Emily Reynolds (Head of Sport at the Youth Sport Trust) and Kate Thornton-Bousfield (Head of PE and Achievement at Youth Sport Trust ) who are delighted to be working with Manchester colleagues and informing us of the most relevant updates regarding the health and wellbeing of our young people including:-
Setting the Scene – Department for Education
Education Inspection Framework – Ofsted
Principles of Competition #ReframeCompetition – Youth Sport Trust
Whole School Active – Manchester Schools PE Association
Manchester's FA Girls Football Development Launch
Further details & formal invitation is here
I do hope that you and your colleagues are able to join us on our journey in enabling the children and staff of Manchester to 'be the best they can be'.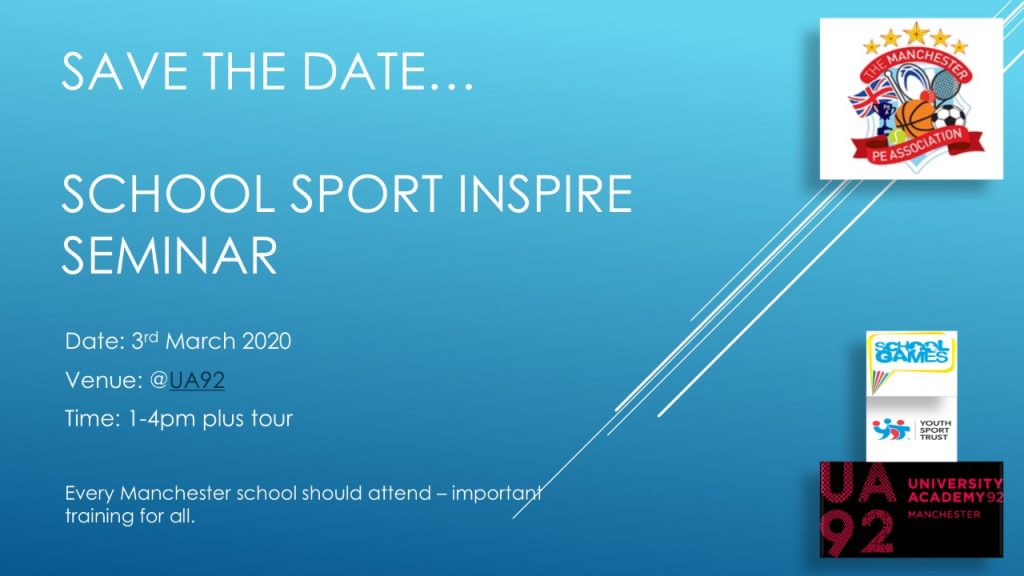 Social Share