Message from Steve Wheeldon, Manchester Schools' PE Association Chair of Trustees
On behalf of the Manchester Schools' PE Association, I am pleased and excited that your school has joined us for the 2020-2021 academic year.
The Association is a charitable organisation, reflecting the fact that it is founded upon the principles that sport and physical activity can do so much to aid the social and emotional well-being of our children and young people, as well as the obvious physical wellbeing benefits it can have. I urge you to make the most of the fantastic opportunities that your membership brings with it this year. In addition to the leagues and competitions that the Association is best known for, we have a plethora of wider opportunities for pupils of all abilities, not all of which are necessarily about competition, or even about sport as you may know it!
On behalf of the Board of Trustees and the Executive team at the Association, I wish you an active and enjoyable year with us, and we look forward to seeing your children and young people enjoying all the opportunities that your decision to join the Association affords them.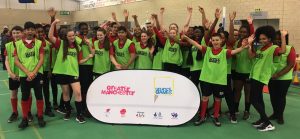 Our Vision
Using the Power of Physical Education, Sport and Physical Activity to inspire and enable the next generation to live active lives and achieve their personal best.
About the Association
Manchester Schools' PE Association supports Manchester Schools in their delivery of PE, School Sport, Physical Activity and Wellbeing programmes. The programme aims to provide an infrastructure of opportunities for your staff and students. It is fully supported by the Manchester City Council, MCR Active, Youth Sport Trust, Department for Education, Department for Health and Manchester's PE, School Sport and Physical Activity (PESSPA) Board.
The programme supports your school in :-
The engagement of ALL pupils in regular physical activity – the Chief Medical Officer guidelines recommend that all children and young people aged 5 to 18 engage in at least 60 minutes of physical activity a day, of which 30 minutes should be in school.
developing programmes which will raise the profile of PE and sport across the school as a tool for whole-school improvement.
Increased confidence, knowledge and skills of all staff in teaching PE and sport.
Broader experience of a range of sports and activities offered to all pupils.
Increased participation in competitive sport.

Our Mission is …
to provide a comprehensive school sport and competition programme which caters for all levels and abilities of young people with pathways for lifelong engagement. Facilitate a wide-ranging programme of activities which offer young people the opportunity to develop positive physical activity habits which contribute to their physical and mental health and wellbeing. Empowering young people and adults to undertake leadership, coaching, officiating and volunteering roles which will develop employability, confidence and resilience. Supporting the Physical Education & wider education network to deliver a high-quality PE, School Sport and Physical Activity offer in all schools.
Manchester Headteachers said ……
"The joy and excitement of our children taking part in a wide range of physical activities has been fundamental to our school's success. Manchester Schools' PE Association have played a key role in providing such a fantastic calendar of events and competitions"
Louise Frize, Headteacher St Francis RC Primary School
"An active environment and high quality PE, School Sport and Physical Activity is vital for
all students to achieve and enjoy school life. In our experience being active has been positive for the mental health and wellbeing of
all, including our most vulnerable students, in the day to day life of school."
Sue Warner, Principal, Melland High School
"PE, School Sport and Physical Activity have been central to our outstanding success. Students and staff have valued the Team Wright Robinson ethos which has positively impacted on attainment, attendance, behaviour and the overall health & wellbeing of our school community."
Neville Beischer, CEO, Wright Robinson College
The Youth Sport Trust said ….
"It has been brilliant to see the work of the PE Association supporting young people and practitioners to ensure their offer of competition, leadership and PA interventions are inspiring, accessible and meaningful to all young people. Making change is often difficult, but the review process has resulted in an excellent offer for schools and young people."
Emily Reynolds, National Programme Director, Youth Sport Trust