M'cr School's PE Association have grant funding to enable your school to access Bikeability training with our delivery partners the National Cycling Academy (NCA).
With funding from Department for Transport and Youth Sport Trust, NCA can train your students in Bikeability – at Level 2 for your Year 7s and Level 3 for your Year 8s upwards.
NCA are working to a strict Covid-19 delivery code and all delivery is risk assessed and quality assured.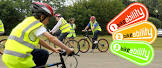 Cycling, very much a life skill like swimming, is part of your school's approach to it's Active 30:30 and Active Travel plan and should fall within your school's approach to a broad and balanced curriculum. In addition, many of your Year 7s will have missed out on Bikeability in Y6.
Please involve your SLT in this – and if you aren't the person to action this request please could you forward to the appropriate person.
First to respond will get priority. One of the team will discuss and arrange with you.
For further info and to book, call Lisa on 0161 796 6221 or email bikeability@ncagb.co.uk.
Here are some more details:-
The PE Association's delivery partner – National Cycling Academy –deliver a Manchester Secondary Bikeability Programme. We have sourced funding for coaches (with bikes where needed) to come into your school to deliver Bikeability Coaching.  This is a great offer and will provide quality assured coaching in 'safer cycling and road knowledge' techniques for your year 7 pupils during curriculum time at no cost.
Our Bikeability Coaching Programme for schools has operated in a number of Manchester Schools over the past 4 years. We work with over 500 year 7 pupils per year.
Bikeability is 'Cycling proficiency for the 21st century' and is training for year 7 pupils to ride safely on roads – ideal for all pupils, but in particular pupils that cycle to school. Here is the link for more information: http://www.dft.gov.uk/bikeability/
The scheme is registered with the Department for Transport, coaches are enhanced CRB checked, Bikeability Instructor qualified and quality assured. The coaches are available to come to your school.
There is no cost attached. It is fully funded.
The course lasts around 8 hours. We have had success delivering over a full day (see eg below). Training times can also be tailored to suit your school's needs.
All pupils passing will receive a Bikeability certificate and badge.
The coaches can work over a number of weeks so you can have a good number of pupils trained.
For further info and to book, call Lisa on 0161 796 6221 or email bikeability@ncagb.co.uk.